The compact folding bike in lockers across the nation. Get that Brompton feeling for a day, a week or more. 
Available from over 70 lockers (and more on the way) in train stations, near public buildings and places of work. Pick up at one location, drop off wherever you choose. Hire for 24 hours. Keep it as long as you need.
Simply download the app, hire and ride. Simple!
Register
Download the app and register some simple details
Reserve
Reserve a bike – up to 24 hours in advance
Ride
Collect and keep for 24 hours or for longer. It's £5 for 24 hours. 
Return
Drop it off at any of our lockers when you're finished
Ride a Brompton for just £5 a day
Riding a Brompton has never been easier. Register your details and hire a bike from any locker nationwide. All for just £5 a day.   
Lots of Bike Hire members use hire as a thorough test ride. And that's because hire fees can be redeemed against the purchase of your very own Brompton - up to £150 for a regular bike and £250 for Electric.
Just speak to our friendly Customer Service team on 0204 538 3225 for more info.
We have over 70 docks nationwide. From Manchester Quays to the shores of Jersey, from the canals of Birmingham to the City of London. We've got you covered.
Ride for longer with Brompton Subscription
Rolling monthly or lock in for 12 months to include insurance and bike servicing. Brompton Subscription offers a new, more affordable way to ride.
Ride to Earn
Seen a different model you like or want your bike to come in the latest colourway? Riding with bike hire isn't just good for your health. You can earn up to £150 off your very own Brompton and £250 off an Electric model. Just speak to our Customer Service team on 0204 538 3225.
Here are a few tips and answers to help you get on your way.
How much does it cost?
We want to make cycling as easy and as accessible to as many people as possible. That's why 24 hours of hire costs £5. Super simple. 
What happens if I get a puncture?
You can return the bike to the locker and report it as damaged  in the app. You can then re-hire another bike. If you have any issues, you can always contact our Customer Service team.
How long can I keep the bike?
The bikes are 24 hour hire as standard and you can keep it for up to 60 days. We would like you to return the bike after 60 days for routine inspection. 
When am I charged?
You are charged once you return the bike or every 3 days, Which ever is sooner. The flat 24 hour hire rate is £5.
Do I have to return the bike to the same locker I took the bike from?
No, bike can be returned to any of our public lockers nationwide. For example, you can collect a bike from Carmarthen, Wales and return it to Oban, Scotland!
What are the specifications of the hire bikes?
The majority of our hire bikes are C Line Utility with Mid Handlebar Model. They come with three easy-to-use hub gears, mudguards and built-in dynamo lights on the front and back. It's a one-size-fits-all design with an adjustable seat post and is suited to most adults on earth. We also include colour coded stickers and clamps to make folding and unfolding easy. 
The prices on the docks are different from the website/app, which is true?
The website and app will always be kept up to date and show the current charges. It can take us some time to replace the decals on the lockers. It's easy to remember though. £5 a day for 24 hours. 
What are the opening hours of your bike hire lockers?
You can access them 24/7/365.
Can I hire more than one bike?
Due to account security and liability concerns, each account is only allowed to hire 1 bike .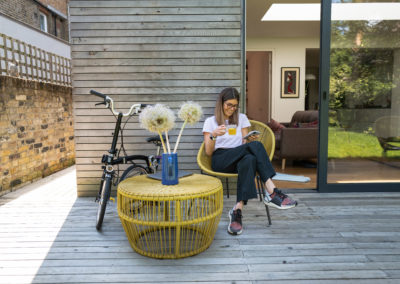 Meet Phoebe, a true food enthusiast, here to prove that living in a healthful way does not mean we must deprive ourselves of the things we enjoy, in fact the opposite is the case! Phoebe began Natural Nourishment with a clear view; to ... Read more